The Exercise Medicine Program
In 2017, the Exercise Medicine Program was launched within the Labatt Family Heart Centre at The Hospital for Sick Children as the first paediatric program in Canada dedicated to providing physical activity and lifestyle recommendations for children with heart disease.
Now in its fifth year, and with more than 200 patients currently enrolled, the program extends beyond cardiac patients to include children living with other medical conditions such as lung disease, rheumatology and endocrinology diseases, and cancer.
Physical activity and healthy lifestyle recommendations are typically not included in the medical care of these children, and the Exercise Medicine Program is the only opportunity for these young patients and their families to receive professional guidance on the benefits of regular physical activity, proper nutrition, and sleep.
A common misconception is that children with medical conditions are too sick to play or participate in sports. As a result, most of them end up leading a sedentary life which leads to serious detrimental effects on their physical and mental health.
Taking part in sports and playing with siblings and friends will not only make these children physically stronger but also more socially engaged. This will improve the way they look at their life.
An active child is an empowered child.
2020 Impact Report
Read more about the growth of the Exercise Medicine Program in the 2020 Impact Report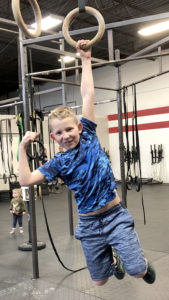 I like playing sports and being active all the time.  I play basketball, baseball, and I ran cross-country at school. I also go to CrossFit, and have done yoga and golf.  I like running around and playing at recess with my friends. Being active makes me feel happy, and I'm always excited to try new things.
"The Exercise Medicine program has helped me to feel more confident when I play sports or do activities because at my latest exercise tolerance test, they told me that I had improved since the first time. That made me feel very proud of myself, and I know that I am getting stronger.  The program helps me to eat healthier, think about my habits like screen time and bedtime, and I think I have a better lifestyle now."
If other kids like me are afraid of getting active I think this program would be good for them because it might help them get over their fears and realize that being active is fun and it is really an amazing thing. I love this program! It's been fun and helpful!
– Alex
Aaron Baboolal, 23 years old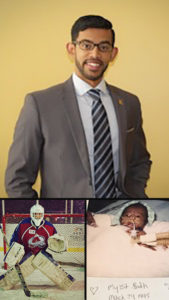 I was born with a congenital heart defect called HLHS (Hypoplastic Left Heart Syndrome) and I was given a 1% chance of survival. Basically, my Left Ventricle never fully developed when I was in utero and it essentially means I have a half-functioning heart in my body. Four open heart surgeries later, I was gifted the rare opportunity to live my life to its full physical potential. From a very young age, I enjoyed playing sports and was always extremely active – when I turned 13, I became a goalie for Ice Hockey and played Field Lacrosse in high school. I continue to play in goal to this day.
"I have become a strong and healthy person today because of three main reasons : the incredible support of my family, my commitment to engage in physical activity, and a knowledgeable and committed team of doctors and nurses that never gave up on me"
Being active is a very important part of a growing child's development and is a big factor in determining if that child will maintain an active lifestyle when they become adults. I am a great example of that.
Aaron says "Yes, I have HLHS but that does not stop me from living my life to the fullest – most people I meet would never know I have a heart condition and I am happy to keep it that way!"