2019 Yogathon, April 27th
The annual Yogathon is Hope for Hearts signature event. This yoga practice is lead by a quartet of extraordinary Yoga instructors . There will be raffle prizes, gifts, photos and fun!
Come join us in an amazing practice and know that you are supporting patients like Lena.
"The Exercise Medicine Program is important because it helps children like me to do things we didn't think we could do on our own. I feel happier now and less tired and my advice for other children would be "Make being more active your goal". -Lena Holdershaw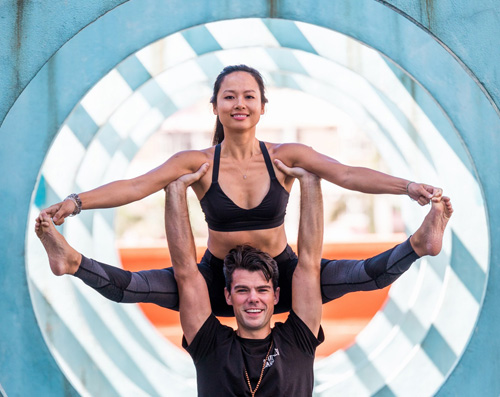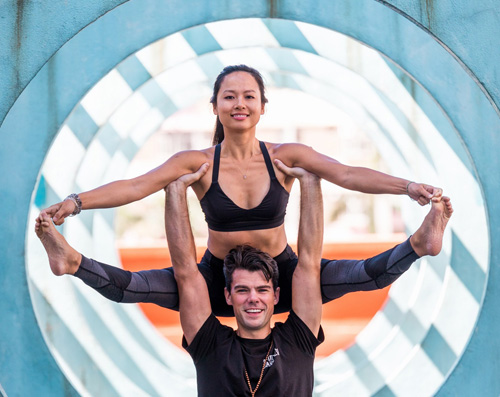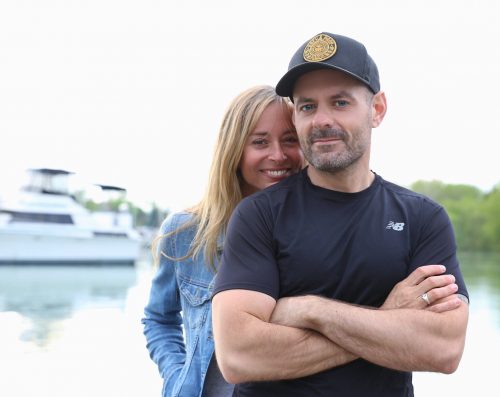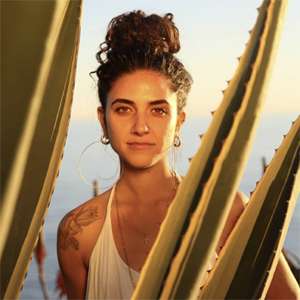 THE ONLY ALEXANDRIA (T.O.A.)
About our Special Yoga Team
The practice will begin with an invigorating warm-up (30 min) by Jacqui Wells, one of Toronto's favorite Yoga instructors, Holistic Nutritionist, and Shiatsu Therapist. She will energize you with the art of movement of strength.
Then the practice (30 min) will be led by Queenie & Jonathan Phair, a couple in life and yoga instructors with international experience. This powerful duo has complimentary teaching styles that will leave you balanced in body and mind.
Finally, the practice will close with a cool down and meditation (30 min) by Michael DeCorte, founder of Jock Yoga, media fitness expert and blogger. He will power down our practice and lead us through a moment of mindfulness.
During the entire practice your body will flow on the magical music played by the amazing performer The Only Alexandria.
Thank you to our generous sponsors

2018 Yogathon
The 2018 Hope for Hearts Yogathon saw more than 160 yogis, 30 volunteers, 10 vendors and 4 instructors running a 90 minute practice.
Special thanks to all our supporters:
Our leading practice instructors Lisa McMurtrie, Queenie and Jonathan Phair and Justin B. Haley.
Event MC Gabriella de la Torre
Our in house DJ Marco Tellez
Our inspiration, Luca Bonomo who shared his story as SickKids patient with us.
Our Media Sponsor City Life Magazine
Our main in-kind sponsors Mukta Being, Loblaw, B Yoga, and Lululemon.
And to all the companies that supported us with In-Kind donations. Thanks to you we had more than 20 incredible raffle prizes and generous swag bags for each participant.
Complementary yoga and fitness passes by Yoga Tree, Crunch Fitness, and Equinox.
Complementary dinners offered by Oretta, Gusto, Nervosa and Pizzeria Via dei Mercanti
Gift cards from Big Carrot and Back in Balance.
Gift provided by Mala Prayer, Naked dates, Almaevita, Teal N Bronze, Rawcology, Nagi Organic, Mai Lin Jewelry, Byoga dn Lululemon.
Our Marketplace vendors: Naked Dates, Almaevita, Bold Baker, Nagi Organic, Origins Water, Rawcology, Teal N Bronze, Loblaw Nutritional Program, Equinox and Mai Lin Jewelry.
2017 Yogathon
2017 was Hope for Hearts' inaugural yoga event. The event was created to embody our beliefs in living an active and healthy lifestyle.  The event was attended by 130 yogis, 20 volunteers, 5 vendors.
Special thanks to all our supporters and volunteers:
Our leading practice instructors Lori Kirwan, Queenie and Jonathan Phair and Robert Young
Event MC Folklaur Chevrier
Our in house DJ Marco Tellez
Our Event Sponsor B Yoga
Our main in-kind sponsors Lululemon, Whole Food and Naked Dates.